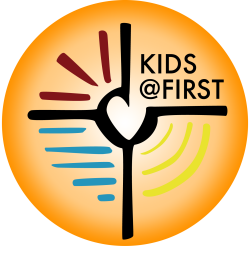 Click

Here

to learn more about Kids' Connection!
Kids are precious, and here at First we don't take that fact lightly. We've designed a program that is tailer-made to engage children where they are in any given phase of their lives. kids@first is our approach to the first two phases in a child's life: Embrace and Engage.
Embrace
The Embrace phase encompasses children from birth through kindergarten. This phase is punctuated by a yearning for an embracing of their physical needs. These children need to know that they're loved, and it is crucial that parents and older authority figures in their lives make this abundantly clear. This group is motivated by a need for safety, and there are three big ideas that we make sure every Embrace child learns and owns before he or she moves on to the next big phase of life:
—God Made Me—
—God Loves Me—
—Jesus Wants to be My Friend Forever—
Our Embrace students are broken into two groups on Sunday mornings: the nursery and preschool room. Our nursery—which houses children from birth through age 2—is available in all three of our services in the same building as each service for parents' convenience. The preschool room—ranging ages 3-5—is available during second and third service, and is in the Education Wing during both services.
Engage
The Engage phase encompasses kids from first through fifth grade. This phase is punctuated by a longing for someone to engage their interests. These kids need to know that they have our attention, and it is critical that parents and teachers give this attention and are clear that God is giving this attention as well. This group is motivated by fun, and there are three big ideas that we make sure every Engage kid learns and owns before he or she moves on to the next big phase of life:
—I Need To Make Wise Choices—
—I Can Trust God No Matter What—
—I Should Treat Others The Way I Want To Be Treated—
Our Engage students are split among two classes on Sunday mornings—each ranging a couple of years—and meet during our second service. We also have a special abbreviated class during third service that both restates the ideas gone over during second service and introduces new ones. This is so that students who attend both second and third service classes get something from both, and that students who only attend one are still able to walk away with that day's big idea. Classes during both services are held in the Education Wing.
Safety
We try to make it our mission to take your child's safety as seriously as you do. For that reason, all teachers are required to submit to a thorough background check. Not only that, but each of our teachers have undergone training that enables them to effectively put your child's safety first.
Parent Cue
Would you like to know exactly what's being talked about each week with your child? Are you looking for a way to continue the conversation that was begun with your child by their Sunday school teacher? Then the Parent Cue is exactly what you're looking for! This little guy is chock full of helpful tips, conversation starters, and devotions that are designed to help you better connect with your child spiritually.
Don't have your Parent Cue handy? Would you like even MORE insights into the phase that your child is going through? Take a look at the Parent Cue smartphone app here!
http://theparentcue.org/app/